If you want to watch the video version of this article, here is the link of the video from my YouTube channel.
Sharda Peeth, located in the territory along the Line of Control (LoC) between Pakistan and India, was once considered a prominent center of learning and knowledge in ancient Vedic time. However, since the partition in 1947, it has become an abandoned site.
Location
Sharda Peeth is located in Neelum Valley in Pakistan Occupied Kashmir (PoK) across Kupwara district of Jammu and Kashmir, along the Line of Control (LoC). It is about ~150kms from Muzzafarabad in Pakistan and around ~130kms from Srinagar in India. You can see the exact location in the map below.
History
Sharda Peeth is believed to be more than 5000 years old. As you may know, the history of the Hindu community is considered the most ancient, and there is no second opinion on this. Hinduism is considered even older than the Vedic era because the timescale of Vedic era and the timescale of the composition of the Vedas are two different things. Hinduism is a word that was later used when other religions came into existence. Otherwise, in ancient time, Hinduism was known as Sanatan Dharma.
Currently, if you visit the location, it doesn't have a temple, but there are ancient rock pillars & stones that have managed to survive over time.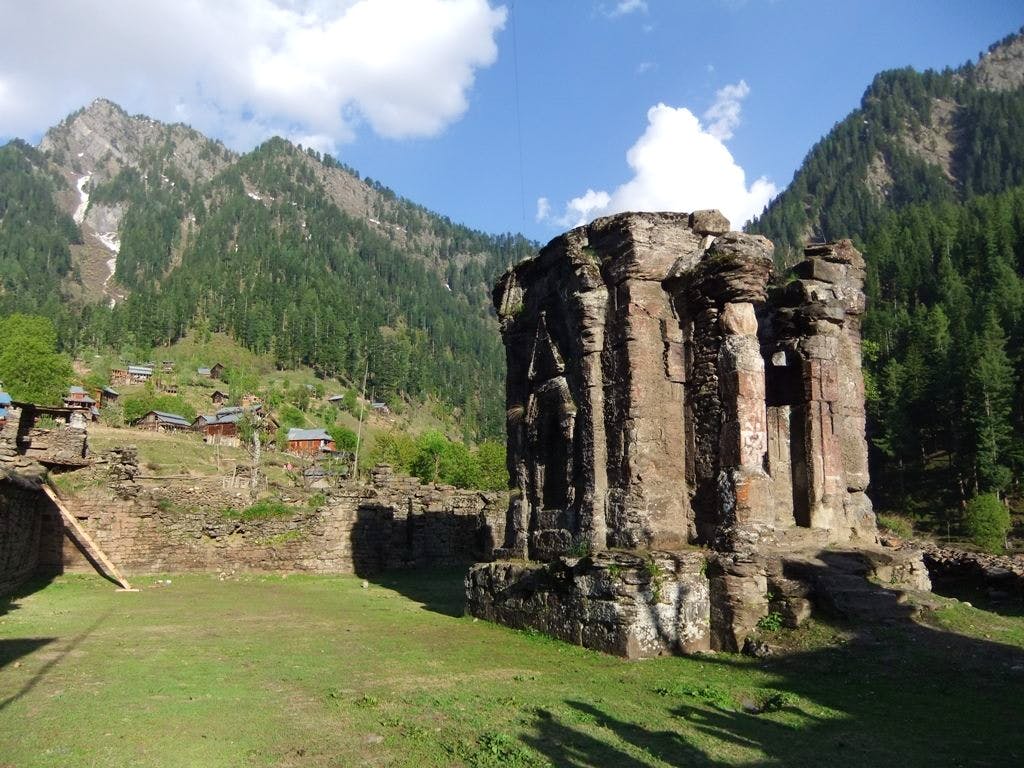 Story behind Sharda Peeth & other 51 Shakti Peethas in the entire Indian Subcontinent
It is believed that, when Lord Shiva was carrying his deceased wife Devi Sati's body across Aryavrath (bharat), parts of her body fell in different places of the Indian Subcontinent, creating divine spots called 51 Shakti Peethas all over.
Devi Sati was the first wife of Lord Shiva and the daughter of Prajapati Daksha. Although she was destined to marry Shiva, Daksha disliked Lord Shiva's appearance. Eventually, Sati married Lord Shiva and was enchanted by the beauty of their new home in Mount Kailash.
One day, Daksha performed a Yagna and invited all devas except Lord Shiva. Sati went to meet her father and pleaded with him to show respect to her husband Lord Shiva, but Daksha refused and insulted Sati in front of his guests. Enraged, Sati cursed her father and his Yagna ritual and set herself on fire, burning to death.
Lord Shiva, grief-stricken by the death of his wife, carried her body on his shoulders and roamed the Aryavrath Indian Subcontinent. The gods eventually asked Lord Vishnu to help restore normalcy to Lord Shiva. Lord Vishnu dismembered Sati's lifeless body with his Sudarshan Chakra, causing her 51 pieces to fall on Earth. The places where her body parts and jewelry fell became the Shakti Peethas. Lord Shiva stayed in isolation until Devi Sati reincarnated as Devi Parvati.
List of Shakti Peeths
Shakti Peeth refers to a sacred place of eternal power and is considered significant in Hinduism / Sanatan Dharma. It is believed to be the place where a part of Devi Sati's body or her jewelry fell on the earth. There are a total of 51 Shakti Peeths, out of which 18 are considered as Maha Shakti Peeths. Majority of these peeths are located in India, with a few in neighboring countries like Pakistan, Bangladesh, and Sri Lanka.
Lets look at the complete list of all 51 Shakti Peeths along with their locations and the body parts associated with them. If you are a devotee and follower of Hinduism / Sanatan Dharma, this information would be of great importance to you.
18 Maha Shakti Peeth
Adi Shankaracharya's Ashta Dasa Shakti Peeth Stotram identifies 18 major Shakti Peeths located at different places in India, among which the Peeths at Kamakhya, Gaya, and Ujjain are regarded as the most significant ones.
| | | | |
| --- | --- | --- | --- |
| S.no | Part of the body fallen | Place | Name of Sakthi |
| 1 | Groin | Trimkomali (Srilanka) | Sankari devi |
| 2 | Back Part | Kanchi (Tamil Nadu) | Kamakshi devi |
| 3 | Stomach part | Praddyumnam (West Bengal) | Sri srunkhala devi |
| 4 | Head hair | Mysore (Karnataka) | Chamundeshwari devi |
| 5 | Upper teeth rows | Alampur (Andhra Pradesh) | Jogulamba devi |
| 6 | Neck part | Srisailam (Andhra Pradesh) | Bhramramba devi |
| 7 | Eyes | Kolhapur (Maharashtra) | Mahalakshmi devi |
| 8 | Right hand | Nanded (Maharashtra) | Eka Veerika devi |
| 9 | Upper lip | Ujjain (Madhya Pradesh) | Mahakali devi |
| 10 | Left hand | Pithapuram (Andhra Pradesh) | Puruhutika devi |
| 11 | Navel | Cuttack (Odisha) | Biraja devi |
| 12 | Left cheek | Draksharamam (A.P) | Manikyamba devi |
| 13 | Vulva | Guwahati (Assam) | Kamarupa Kamakhya devi |
| 14 | Fingers(hand) | Prayagraj (Uttar Pradesh) | Madhaveshwari devi |
| 15 | Head part | Jwala (Himachal Pradesh) | Vaishnavi devi |
| 16 | Breast part | Gaya (Bihar) | Sarvamangala devi |
| 17 | Wrist | Varanasi (Uttar Pradesh) | Vishalakshi devi |
| 18 | Right Hand | Kashmir | Saraswathi devi |
18 Maha Shakti Peeths in India
There are 51 Shakti Peeths in Devi Purana.
| | |
| --- | --- |
| Shakti Peeth | Location |
| Mahamaya Shakti Peeth, Amarnath, Jammu and Kashmir | Amarnath, Jammu and Kashmir |
| Fullara Devi Shaktipeeth, in Attahasa, West Bengal | West Bengal |
| Bahula Shakti Peetha, Bardhaman, West Bengal | West Bengal |
| Mahishmardini Shaktipeeth, Bakreshwar, Siuri town | Bakreshwar, Siuri town |
| Avanti, Bhairav Parvat Shakti Peeth, Ujjain, Madhya Pradesh | Bairavparvat Ujjain, Madhya Pradesh |
| Shri Aparna, Bhabanipur Shaktipith, Bangladesh | Bhavanipur, Bangladesh |
| Gandaki Chandi Shakti Peeth, Chandi River | Chandi River |
| Maa Bhramari, Janasthan Panchavati Nasik Shakti Peeth | Janasthaan |
| Kottari, Hinglaj Mata mandir, Karachi | Hinglaj, Karachi |
| Jayanti Shaktipeeth Temple, Bourbhag Village, Bangladesh | Bangladesh |
| Yogeshwari, Khulna district | Khulna district in Bangladesh |
| Jwala or Shakti Siddhida, Kangra, Himachal Pradesh | Kangra, Himachal Pradesh |
| Kalika, Kalighat, West Bengal | West Bengal |
| Kali in Kalmadhav, Amarkantak, Madhya Pradesh | Amarkantak, Madhya Pradesh |
| Khamakya, Guwahati, Assam | Guwahati, Assam |
| Devgarbha/Kankleshwari, Birbhum, West Bengal | Birbhum, West Bengal |
| Sravani, Kanyakumari, Tamil Nadu | Tamil Nadu |
| Chamudeshwari/Jaya Durga, Chamundi Hills, Mysore | Chamundi Hills, Mysore |
| Vimla, Murshidabad, West Bengal | West Bengal |
| Kumara Shakti at Anandamayee Temple of West Bengal | West Bengal |
| Shakti Bhraamari, Ratnavali, West Bengal | West Bengal |
| Shakti Dakshayani, Manasarovar | Manasarovar |
| Gayatri Manibandh, Pushkar, Rajasthan | Pushkar, Rajasthan |
| Uma at Mithila, border of Nepal and India | border of Nepal and India |
| Indraksh, Nainativu, Manipallavam | Manipallavam |
| Mahashira, Guhyeshwari near Pashupatinath Temple | Pashupatinath Temple |
| Bhawani at Chandranath Hills, Bangladesh | Bangladesh |
| Varahi, Panch Sagar, Uttar Pradesh | Uttar Pradesh |
| Chandrabhaga, Junagarh, Gujarat | Junagarh, Gujarat |
| Lalita of Prayag | |
| Savitri/Bhadra Kali, Kurukshetra, Haryana | Kurukshetra, Haryana |
| Maihar/Shivani, Satna, Madhya Pradesh | Madhya Pradesh |
| Nandini or Nandikeshwari, Birbhum, West Bengal | West Bengal |
| Sarvashail/Rakini on Godavari river banks at Kotilingeswar Temple | Kotilingeswar Temple |
| Mahish Mardini at Shivaharkaray near Karachi of Pakistan | Karachi of Pakistan |
| The Narmada Shondesh, Amarkantak, Madhya Pradesh | Madhya Pradesh |
| Sundari at Sri Sailam (currently in Bangladesh) | Bangladesh |
| Maha Lakshmi at Sri Shail (currently in Bangladesh) | Bangladesh |
| Devi Narayani, Suchindram, Tamil Nadu | Tamil Nadu |
| Suganda of Shikarpur (currently in Bangladesh) | Bangladesh |
| Tripura Sundari, Udaipur in Tripura | Tripura |
| Mangal Chandika at Ujjain | Ujjain |
| Vishalakshi, Varanasi, Uttar Pradesh | Uttar Pradesh |
| Kapalini of Vibash, Medinipur, West Bengal | West Bengal |
| Ambika, Bharatpur, Rajasthan | Rajasthan |
| Uma at Vrindavan/Bhooteswar Temple of Uttar Pradesh | Uttar Pradesh |
| Tripurmalini, Jalandhar, Punjab | Punjab |
| Amba at Ambaji, Gujarat | Gujarat |
| Jai Durga, Deogarh, Jharkhand | Jharkhand |
| Danteshwari, Chattisgarh | Chattisgarh |
| Nabi Gaya, Biraj, Jaipur | Jaipur |
51 Shakti Peeths